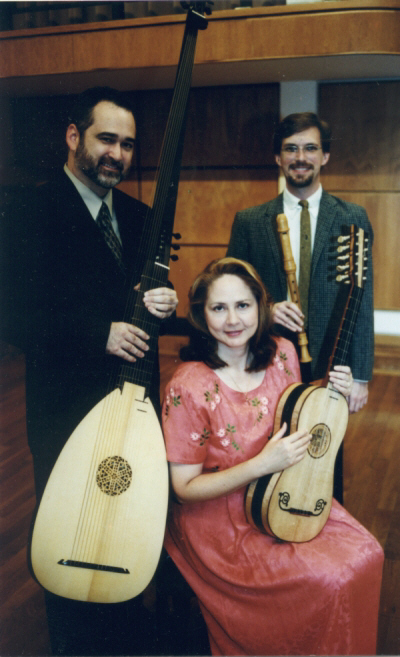 Cavalier Consort was formed in 1994 and specializes in the performance of instrumental music of the sixteenth and seventeenth centuries. This trio of instrumentalists performs on theorbo, baroque guitar, classical guitar, recorder and baroque flute. The Cavalier Consort served as ensemble-in-residence at Chowan College in Murfreesboro, North Carolina from 1998-2001. The group has performed in many different settings including university concert halls, churches and historic houses throughout the Mid-Atlantic region.

MEMBERS

Charles Hillen holds Bachelor's and Master's degrees in clarinet performance from the University of Cincinnati College-Conservatory of Music. He has played recorders since 1980 and has performed with the Virginia Choral Society, Virginia Wesleyan College's Schola Cantorum, Old Dominion University's Collegium Musicum, and Chowan College's Meherrin Chamber Orchestra. Charles studies baroque flute with Amy Laura Edmondson and began performing flute with Cavalier Consort in the 2000-2001 season.

Linda Murphy holds a Bachelor's Degree in Music History from Old Dominion University. In addition to performing baroque music with the Cavalier Consort, she frequently performs on the classical guitar with her husband Michael and with flutist Kathy Daniels. A popular guitar and piano teacher, Linda has taught for the Community Music Academy of Old Dominion University and for the Governor's Magnet School for the Arts. A talented multi-instrumentalist, Linda also plays cittern, and baroque guitar.

Michael Murphy, guitarist and lutenist, holds a Master of Music Degree in Guitar Performance from Virginia Commonwealth University. He is a founding member of the Cavalier Consort. He has performed with Capriole, The Governor's Musick of Colonial Williamsburg and has appeared on the concert seasons of the Tidewater Classic Guitar Society and the Richmond Guitar Society. Michael has taught for Virginia Commonwealth University and Virginia Union University and he is now guitar instructor for Old Dominion University and Chowan College. He is currently working toward his Doctor of Musical Arts degree at Shenandoah Conservatory.